If you are new to reloading, then the Lee Breech Challenger Kit is one of the top beginning-friendly kits that are available in the market. For the affordable pricing and convenient usage of the kit, many are getting interested in getting the kit for themselves.
The company claims to guarantee customers satisfaction, with high-quality products and the best performance at a reasonable price.
To test out whether the kit is actually one of a kind, our team has thoroughly tested each and every aspect of the Lee breech Lock Challenger Kit. From performance to pricing, we have looked at every detail of the product, to present our honest opinion.
Related Post:
In this article, we have compiled all the information that we gathered while testing the kit, to provide an in-depth Lee Breech Lock Challenger Kit Review.
To know whether the product is worth your money or not, stay tuned till the end.
So, without wasting any more time, let's go!
Lee Breech Lock Challenger Kit Review
The Leech Breech Lock Challenger Kit includes the following:
Single Stage Press
1 Breech Lock Die Bushing
Lee Auto-prime XR Hand Priming Tool
Lock Stud
Lee Perfect Powder Measure
Lee Chamfering Tool
Lee Safety Powder Scale
Powder Funnel
Primer Pocket Tool
Sizing Lube
A Set of 11 Auto-prime Shell Holders
Primer Pocket Cleaner.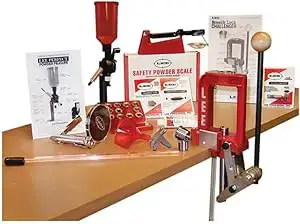 Specifications Of Lee Breech Lock Challenger Kit
Here are the specifications of the Lee Breech Lock Challenger Kit that you must know while considering to buy one:
| | |
| --- | --- |
| Material Of the Frame | Aluminum alloy |
| Frame Offset | 30 degrees |
| Opening Of the Frame | "O" shaped frame |
| Press Type | Single stage |
| Die Bushing | Accepted |
| Mounting Holes | Present, 3 in number |
| Hand Priming Tool | Included |
| Ram Stroke | 3.5 inches |
| Ram Diameter | 0.815 inches |
| Spent Primer Collection System | Yes |
| Case Trimmer | Included |
Important Features of Lee breech Lock Challenger Kit
Lee and Breech Lock Challenger Kit has some innovative and new features that can impress potential customers. So before deciding whether you should get the product or not, you need to know about these features in detail.
In this section, we have discussed the key features of the Lee Breech Lock Challenger Kit, as well as the value they add.
So, let's get started.
Design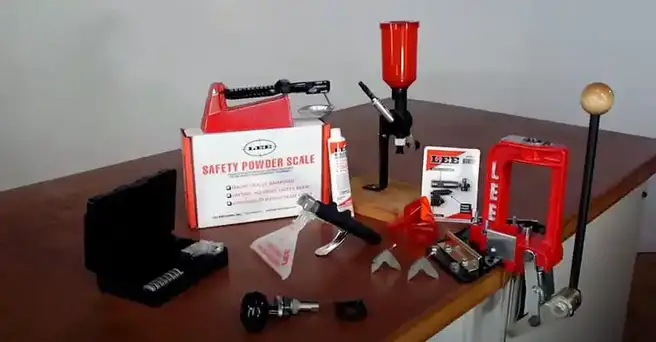 The Lee Breech Lock Challenger Kit is very lightweight. The frame is made out of hardened solid aluminum. Although it is very light to handle, the frame is very durable.
The press has an "O" frame design, which looks very nice and presentable. That's why it can surely be a great addition to your reloading room.
The ram of the press has a stroke of 3.5 inches.  It can also act as a spent primer channel.
Another great thing about the design is the ambidextrous handle. The handle is attached to an aluminum linkage that is "T type". For this reason, the handle is suitable for heavy and tough tasks, such as neck expanding and rifle sizing.
So, from our experience, the sturdy and creative design ensures accuracy and great performance each time.
Performance
In terms of performance, Lee Breech Lock Challenger Kit has done a pretty decent job during our trial.
One of the best features of the kit is the Breech Lock quick change die system. This can hold the dies in inserts and can be removed very fast from the press.
With a quarter twist, you can change a rightly set die with the help of the breech lock. This is a very cool feature that can save a lot of time.
You don't need to worry about creating any mess while emptying the spent primer catcher. It can be emptied out easily and works very effectively.
The safety powder scale is very accurate, as the beam is made of tough phenolic. For this reason, you can use it continuously for quite a while without any worries.
Also, the powder measure gives very fast and precise results.
Pricing
The Lee Breech Lock Challenger Kit is certainly one of the most affordable reloading kits that you can possibly get. Currently, it is priced between $250-$280.
The advantages and convenience you can get from this kit are well worth the money.
If you are looking for a beginner-friendly kit that's also within a reasonable price range, then you can surely go for this one.
Pros and Cons of Lee Breech Lock Challenger Kit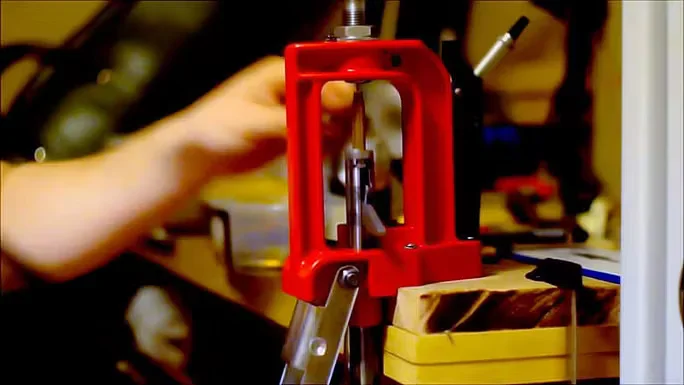 PROS:
The reloading kit is budget friendly
Has quick die change bushing system
Includes resizing tube
Excellent primer removal and handling
Has a case trimmer for accurate trimming
Has depriming channeling system
CONS:
Has analog powder measure scale
Doesn't come with mounting hardware
Doesn't have any reloading block
Frequently Asked Questions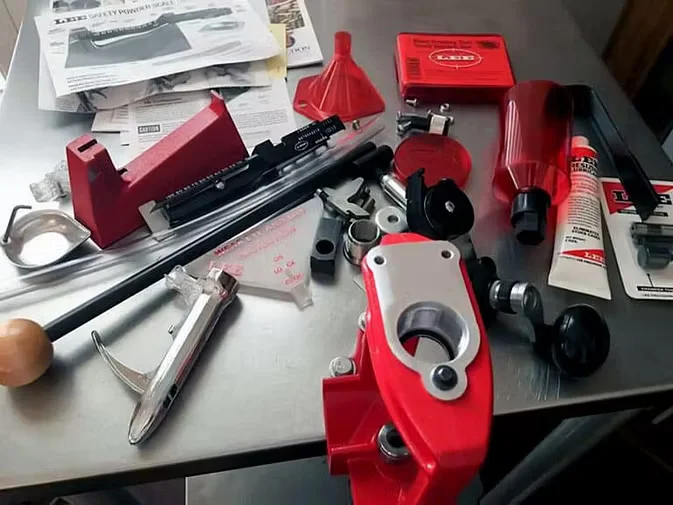 Does This Kit Include a Deprimer?
Ans: No. The deprimer is actually a part of the sizing die. The Lee Breech Lock Challenger Kit doesn't come with dies. You will get deprimer with a caliber-specific die set, but you'll need to buy that separately.
Do I Need to Buy Dies For 9mm Cartridge?
Ans: As the kit doesn't include any die, you have to buy dies for every cartridge that you wish to reload. So yes, you will need to purchase a set of 9 mm dies.
Does This Kit Include Case Length Gauge?
Ans: No. The case length gauge is caliber specific. So, you will need to purchase a set of case length gauges for each caliber that you have to reload.
Final Thoughts
To sum up, The Lee Breech Lock Challenger Kit is a great beginner-friendly reloading kit for those who don't want to spend too much at entry level. This kit is also great for seasoned reloaders who want to add to their reloading setup.
The kit is perfectly suited for those who want quality outputs but within an affordable price range. It can provide ease and convenience, which helps any beginner to learn more efficiently and save much time.
Hopefully, Lee Breech Lock Challenger Kit Review has helped to get in-depth knowledge about this single-stage reloading press Kit. So, if you are a beginner and looking for a cheap reloading kit, we can safely recommend this product to you.
Good luck and see you next time!