Storing your cleaning stuff in the right way can save you from injuries, product damages, and other risks. That's why it's important to know how to store gun cleaning stuff for a gun owner. A gun can be dangerous if the user or the owner does not put it carefully. The term 'Negligent Discharge' is a formal name of accidental discharge. This is absolutely avoidable if the gun is regularly cleaned in the right way. To store the gun cleaning stuff properly is an important part.
The common way to keep your gun cleaning stuff is by using a toolbox to keep equipment dry. Most owners use the toolkit to clean, and these kits come with a nice and safe toolkit box. These boxes also come with organizing compartments. Several people buy these cases from the market in different price ranges. Some make different material boxes like wooden or plastic.
Related Article:
How To Store Gun Cleaning Stuff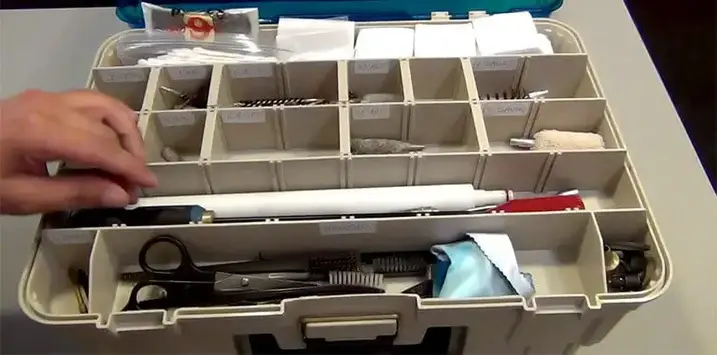 What Are the Gun Cleaning Essentials?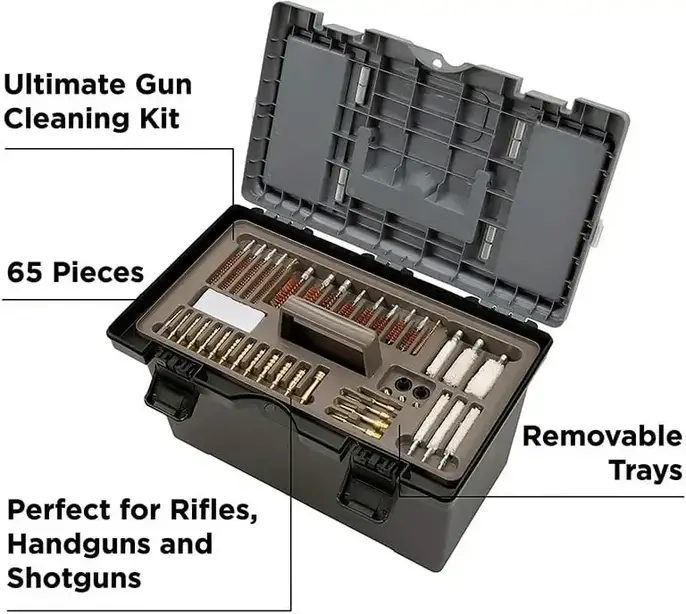 Gun needs regular cleaning and lubrication to function safely, as I already mentioned. If you are not a new owner of any gun, then you already know the fact. It is not a complicated task at all. If you have the right tools, it is an easy job. From my perspective, it is vital to have these basic tools. I am going to throw a shade on the brief of these tools in this segment.
Essentials: 
Cleaning Rod: If anyone asks about this tool, the first thing you will hear is the material it is made of. Always check the material of your gun's barrel. Why? Because the material of the cleaning rod should be a softer one. While looking for softer material for a cleaning rod, bronze is a very reasonable and good option. The best option is carbon fiber if you are looking for more quality. This material helps to keep the barrel scratch-less. The barrel needs to be cleaned regularly with a cleaning rod. So, the softer material of the cleaning rod keeps the gun away from damage or scratches.
Jags: It is an adjacent part of the cleaning rod. It is used to clean the inside part of the barrel. A patch-like cotton swab is attached to the end tip of the jag, and then it helps to clean the dirt on the inner side of the barrel. The hole in the barrel is like a needle. There is another part attached to the cleaning rod called a loop. You will have to send the patch by push on the loop. The simple rule is you will have to change the patch after each patch. It will help restrain the barrel from getting the same sticky or greasy dirt while getting cleaned.
Patches: This is the part we were introduced in the previous point. I would suggest looking for one-time and small size patches. As you already learned that it is better to change the patch after every pass. When you re-use the same patch, you need a cleaned bore that can give back the same gunk to the same place. Before purchasing, choose some low-cost, one-time patches with soft material.
Bore Brushes: Brushes should always be made of soft materials. The two best picks for cleaning the barrel are bronze and nylon. Bronze is perfect for removing tough or stickier carbon dirt, and nylon removes the lighter dirt. You will find some brush sets that come with different materials and sizes so that you can clean different parts and different types of dirt with different material brushes.  
Right Cleaning Chemicals: This is one of the basic cleaning things for guns. The right chemicals for the right type of jobs are equally important so that your gun can stay in the best state possible. Why? I found two major reasons for this. Your gun has different levels and types of greases in the barrel. After cleaning with brushes and patches, it needs something for maintenance. Another fact is it creates extreme heat, abrasions, and very speed motion of bullets when the gun is fired. For all these frictions and corrosions cleaning the gun with the right chemicals is essential. It keeps the gun functional for a long time. I will be briefing 4 (four) types of chemicals for four jobs here, and these are the name any expert will suggest to you:

Solvent: This chemical is to keep the bore from carbon, lead, and other stains.
Degreaser: This chemical is applied before applying the lubricant. It cleans the dirt and oil that are already in the moving parts of the gun. And this helps to keep those gun parts fresh and clean so that you can lubricate the firearm smoothly. 
Lubricants: Lubricants are great for keeping the rusts away from the gun.
Protectants: Coming to contact with water for any metal-made machine can cause rust also. Protectants actually keep that water contact at bay off. This fluid can show the capability, especially using the gun while in any military or hunting situation.
Necessary but NOT mandatory Tools:
These tools are not directly essential for cleaning the gun. These are rather to make cleaning effective and easy.
Toothbrush: A simple way for dusting.
Bore Guide: This prevents the cleaning rod from deviation by keeping it at the center. Also, there is a high chance of dripping off while applying solvent. A bore guide helps to prevent that also.
Storing These Essentials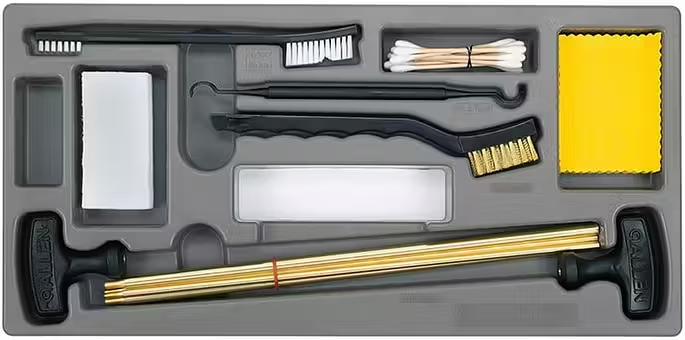 Storing these tools needs a box or a bag primarily. You can buy it from the market or make it by yourself. I am going to discuss the features that a toolbox or bag should have:
Compartments: You should never put all the cleaning stuff altogether, tangling and overlapping each other. The case, toolbox, or bag should have compartments to put all the tools separately and properly.
Bottles for Chemicals: Solvents or other chemicals should not be mixed. Keep them in separate strong plastic bottles. Chemicals tend to be spilled. That can result in them soaking into the case/bag or brush or patches. Good plastic bottles will prevent that situation. If you use a bag instead of a case, this is a must.
Storage Space: Keep your cleaning equipments in a place where they can rest properly. Proper and enough space is important. That will avoid bents or damages or cracks of these tools.
Proper Cover: The box or the bag should have a cover. Do not buy or make an open box. It will add extra hassle to clean the cleaning stuff! If you want an open box, then please cover it with at least a cloth.
Intactness and Portability: When you go for hunting or any competition or any event to fire the arm, cleaning tools should be with you. And they should remain compact while the owner is moving.
Important Extras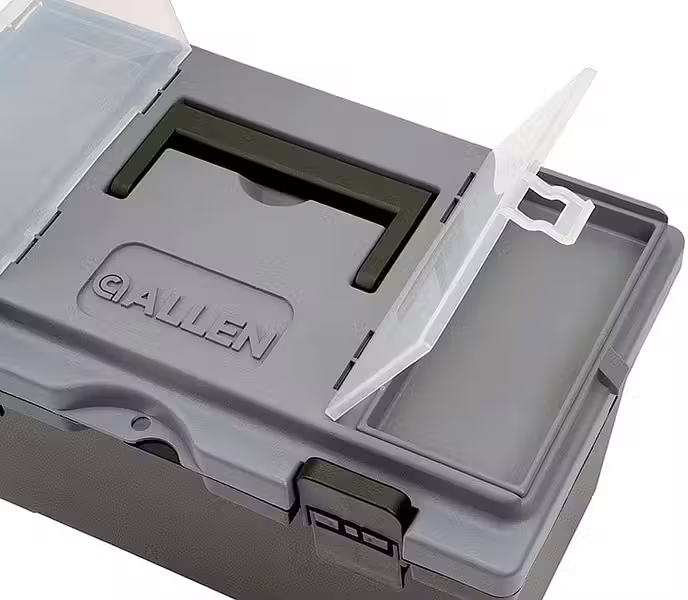 If you are looking for some extra information about how to store gun cleaning stuff, I would always suggest you keep a rollout mat for keeping your cleaning stuff while using them. Or you can use that to lay your gun on any time you need to.
Another important thing I mentioned at the very beginning is to keep your box or bag dry. Any kind of water, chemicals, or oils should be cleaned properly to keep those cleaning stuff fully functional.  
Final Words
Storing the gun cleaning stuff is not a complex job. You can use an old plain tackle box or buy any kit box or bag from the market. Make sure to choose not a heavy one before purchasing. Keep it dry and check if every compartment is okay or not. Check the chemical storing bottles regularly. Choose the rolling mat as per the firearm type. This is enough to keep gun cleaning stuff sustainable.