Lee Precision is famous for manufacturing high-quality and cost-effective reloading products. If you have their products in your possession, you have made a good decision.
Among their most famous products, the Lee 4 Hole Turret Press comes at the very top. This press claims to be the finest and most convenient press available in the market. It also claims to be the finest reloading system ever made.
To see if these claims are in fact true or not, we decided to test it out ourselves. We have gone through the product from each and every aspect, to present a review with our honest opinion.
Related Post:
In this Lee 4 Hole Turret Press Review, we have covered all the specifications and important features of the Lee 4 Hole Turret Press, like design, performance, and many more. By the end of Lee 4 Hole Turret Press Review, you should be able to get some extra knowledge about the product, and whether to buy it or not.
So, without wasting any more of your time, let's jump right in!
Lee 4 Hole Turret Press Review
The Deluxe Kit Includes:
Turret Press Having Auto Index
Safety Powder Scale
Revised Reloading Manual
Small And Large Safety Prime System
Powder Measure (Auto Drum)
Case Trimmer Cutter
Chamfering Tool
Lee Sizing Lube
Large And Small Primer Pocket Cleaner
Lock Stud.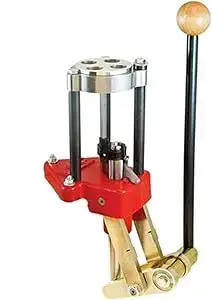 Specifications Of Lee 4 Hole Turret Press
Before deciding to buy any product, you should have a proper idea of its specifications. To make things easier for you, we've listed the specifications of Lee 4 Hole Turret Press here in a tabulated form:
| | |
| --- | --- |
| Press Type | Turret Press |
| Stage | Single Stage |
| Frame Material | Cast Iron and Steel |
| Priming Feature | Present |
| Mounting Holes | Present, 3 In Number |
| Spent Primer Collection System | Yes |
| Mounting Hardware | Not Included |
| Die Size Accepted | Standard 7 / 8"-14 Threaded Dies |
| Die Bushing | Not Accepted |
| Handle Location | Ambidextrous |
| Ram Stroke | 3.5 inches |
Important Features of Lee 4 Hole Turret Press
Lee Precision has claimed that the Lee 4 Hole Turret Press is the finest and most convenient machine that you can find. To check if the claim is indeed true or not, we have broken down the important features of the press. In this segment, you'll get to know about the design, how well it actually works, and if the pricing is justified or not.
So, let's get started!
Design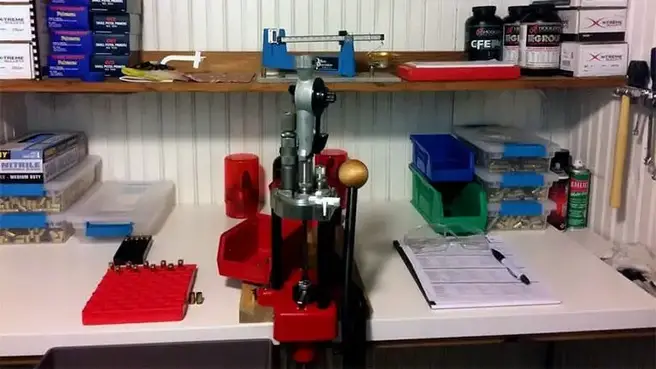 The Lee 4 Hole Turret Press has an innovative and effective design that sets it apart from the rest.
The frame is made out of rigid cast iron and steel, which supports and makes the whole structure very sturdy.
One of the best things about the press is the cast iron frame of the press, which holds the largest ram of all other reloading machines.
The press also has a large opening and can handle cases up to 4 inches.
The Classic Lee 4 Hole Turret Press has a solid steel linkage, and with this, a hardwood handle is added. This configuration makes the handling very easy and comfortable while giving generous hand clearance as well.
So, design and outlook-wise, it is surely one of the best considering the price point.
Performance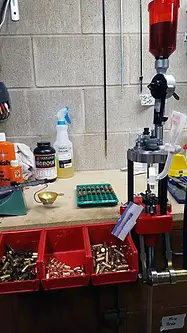 While running our tests, the Lee 4 Hole Turret Press worked great and overall has shown positive results.
The turret press uses Lever Priming System (LPS). Thanks to its long stroke, this press can hold cases up to 3 inches long, which makes it very convenient to use.
The best and most innovative thing about this press is: that you can simply lift out an entire turret without having to disassemble the dies. You can load all of your different calibers on a different turret that is ready to use. This saves a lot of time and energy and surely is one of the best features of the machine.
Pricing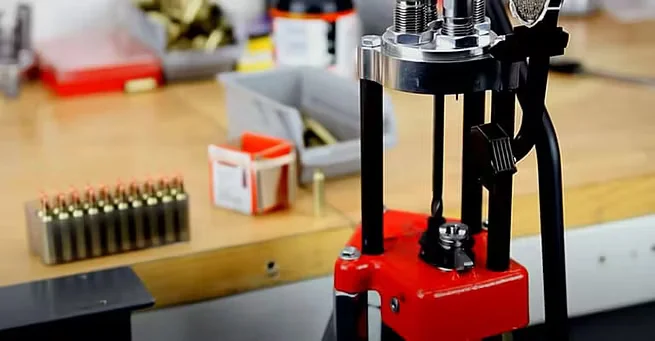 The Lee 4 Hole Turret Press is a great deal if you consider all the advantages you get with it. Currently, it is priced at around $260-$270.
So, if you are looking for a machine that can give you a satisfactory outcome within a reasonable price range, then you can definitely opt for it.
Pros And Cons of Lee 4 Hole Turret Press
PROS:
Has a great design
Handles different cartridges with ease
Includes Adjustable Clamp to change the arm length
The turret can be lifted off easily so you can change the die set
Capable of making consistent ammo
Delivers smooth and great performance overall
Has an affordable pricing
CONS:
The primer arm isn't stable
The press is right-hand only
Frequently Asked Questions
Do I Need to Readjust the Dies After Switching Turrets?
Ans: Ideally speaking, you don't have to readjust the dies if you switch turrets. You get multiple turrets for different calibers. You can just leave the dies in the turret and then you can switch the entire turret. That way, you won't need to assemble or readjust the dies all over again.
Does This Press Have a Center Flip Section?
Ans: Yes, there is a center flip section for more cards. The flip section has 3 slots on each side. On each side behind the slots, there's also a pocket at the center of the wallet.
Can I Load S&W 500 Magnum with This Press?
Ans: Yes, you can. The size is not too big and just fits right in the Lee 4 Hole Turret Press. So as long as the size doesn't exceed the limit of the press, you can load anything of your choice without any problem.
Final Thoughts
After looking at all the specifications and details, we can come to the conclusion that the Lee 4 Hole Turret Press is a great machine for those who are looking for something affordable.
If you are new to reloading and want something that is both beginner-friendly and cost-effective, you can surely go for this one. Although it's not free from flaws, it's a great deal considering the performance and pricing.
We hope that Lee 4 Hole Turret Press Review has helped to make your decision-making easier.
Good luck and see you soon!